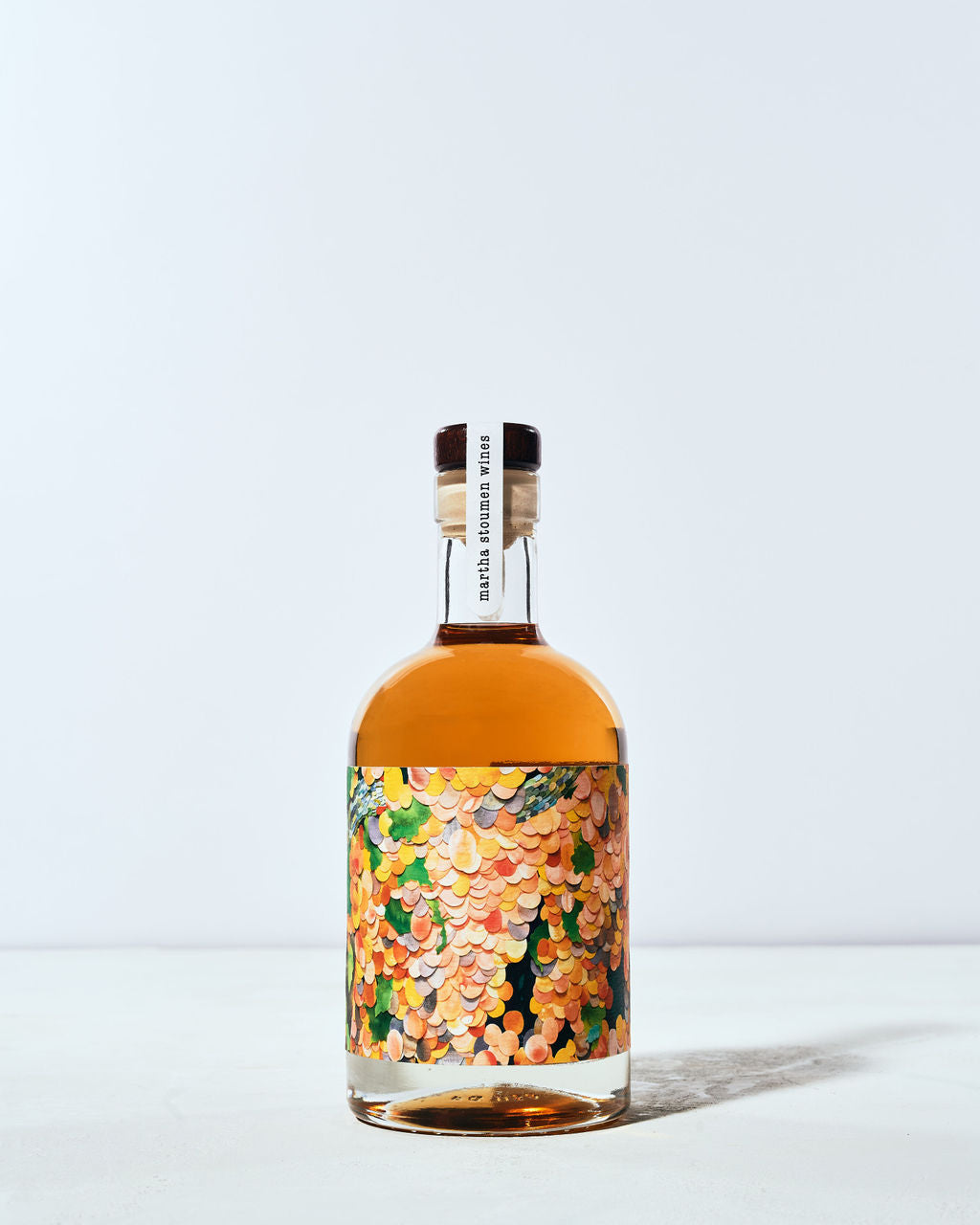 Diluvio
Varietal:
80% Muscat fleur d'oranger, 20% aged brandy
Vinification Notes:
After our winery space flooded in the spring of 2019 and we were unable to enter the building to top our tank of rosato, we were left with a tank of wine that had gone sideways. In May of that year, we wheeled all 550 gallons of our 'flawed' Nero d'Avola Rosato across the parking lot to our neighbors at Spirit Works. Spirit Works used their beautiful copper alembic still and their short column to distill the wine into brandy which allowed us to dial in a clean, but not totally neutral tasting brandy. We split the distillate with Spirit Works and came out with 26 gallons for ourselves of 182.2 proof. We aged the brandy in stainless steel for 1 ½ years.
We harvested Orange Muscat in August of 2020. The grapes were gently whole cluster pressed to avoid excessive bitterness, then cold settled and racked off lees. The sweet, unfermented juice was combined with our aged brandy, at a ratio of approximately 3:1, aged untopped in one neutral oak barrel for 3 months, then hand bottled. The addition of high proof brandy to juice immediately arrests the possibility of fermentation, negating the need to add sulfites or filtering.
Vineyard:
Brandy distilled from Rosé of Nero d'Avola Rosato
Benson Ranch, Mendocino County; 15-year-old vines; dry farmed (no irrigation) to organic principles without the use of pesticides, herbicides, or synthetic fertilizers; gravelly loam soils.
Muscat fleur d'oranger from Nelson Family Vineyard in Ukiah.
Tasting Notes:
This Muscatel, made with aromatic muscat fleur d'oranger, greets you with apricot and orange blossoms, then offers a sweet, slow moving current of amaretto, candied orange, fuyu persimmon, and black tea leaves. Sip a two ounce pour in a wine glass neat, or over a rock whenever there are glowing embers, soft blankets, and you're not ready to say goodnight.
Production Notes
Production: 38 cases | 375 ml bottles
At Bottling:
20% alcohol. SO2 at bottling (November 2020): < 6 mg/L free, < 15 mg/L total. Residual sugar: 5.5 grams/fl.oz of natural residual sugar (glucose + fructose) or 184 g/L