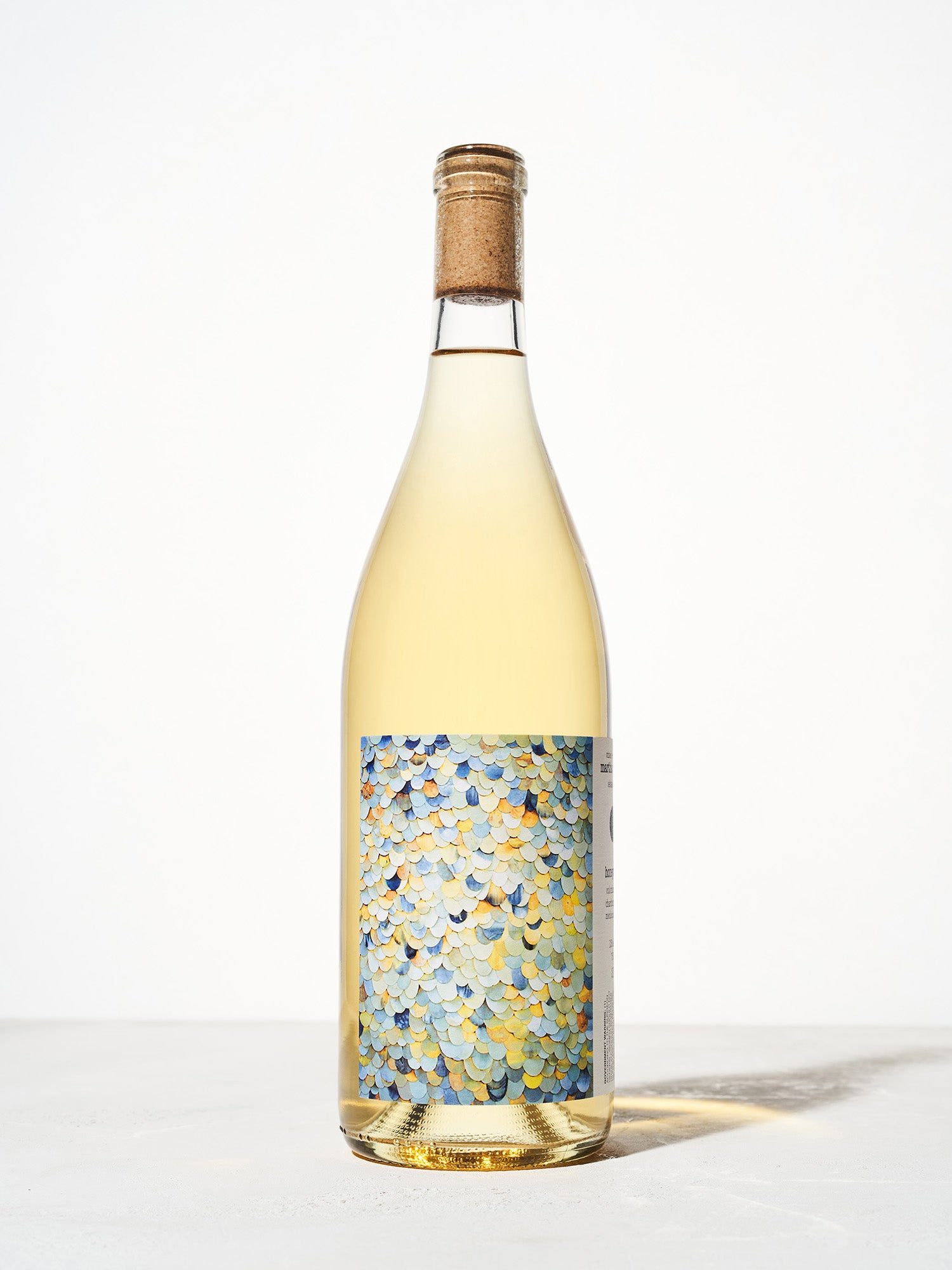 Honeymoon 2019
Varietal:
75% Colombard, 25% Chardonnay
Vinification Notes:
Both the Chardonnay and Colombard were harvested by hand, kept whole-cluster, and gently foot tread before pressing. After pressing, the juice was settled and then racked to neutral oak barrels to begin fermentation. We taste the juice lees during racking to determine how much to include (discarding overly bitter-tasting lees) and then re-distribute the lees evenly across all barrels. The juice fermented in barrel and was kept on its lees for 9 months before racking and final blending. Just like 2018, we filtered this year's Honeymoon to preserve the small amount of remaining residual sugar.
Vineyard:
Colombard from Ricetti Vineyard in Redwood Valley; planted in 1948; dry farmed (no irrigation); certified organic.
Chardonnay from Hawkeye Vineyard in Redwood Valley; organic.
Tasting Notes:
Aromas of wildflower honey and alpine herbs, alongside a hint of hazelnut and golden apple skin; reminiscent of Roussette de Savoie. While this year's Honeymoon has less weight compared to last year's botrytized vintage, the bright acidity, rounded texture, and slightly bitter finish nicely balance a honeyed core.
Martha's Notes
The star of our Honeymoon is the 70 year-old Colombard from dry farmed, head trained vines. When young, Colombard can throw a large crop and has largely been written off as a blending/filler grape, or has been used traditionally for distillation into cognac. However, with old vine age, dry farming, and by allowing a long hang time, Colombard can be as complex as its parent, Chenin blanc. The Honeymoon, to me, is always a layered wine, where I try to achieve some tertiary characteristics alongside brightness and fruit. We've always leaned into barrel fermentation, lees contact and longer elevage to achieve these layers. In 2018, some botrytis in our Colombard allowed us to explore this idea straight out of the vineyard where 'noble rot' on the grapes lent a unique flavor and texture. Since there were no conditions for botrytis during the 2019 vintage, we leaned on our cellar processes to continue exploring this idea of layering. Please welcome to the stage: oxidative winemaking. I love the wines of the Jura and some traditional Rioja whites for their nutty depth, and I felt that the existing flavors of Honeymoon could harmoniously embrace light amounts of oxidative flavors easily. So, we filled the Chardonnay barrels destined for Honeymoon once, but refrained from topping these barrels during aging. Only 25% of the Honeymoon blend, this oxidative element from the Chardonnay provides a deeper golden color, mouthwatering high tones, and that hint of hazelnut and golden apple skin.
Production Notes
Production: 256 cases
At Bottling:
12% alcohol. Unfined. Filtered. At bottling (June 2020): free SO2 < 2 mg/L, total SO2 26 mg/L; 0.4 g/L residual sugar.