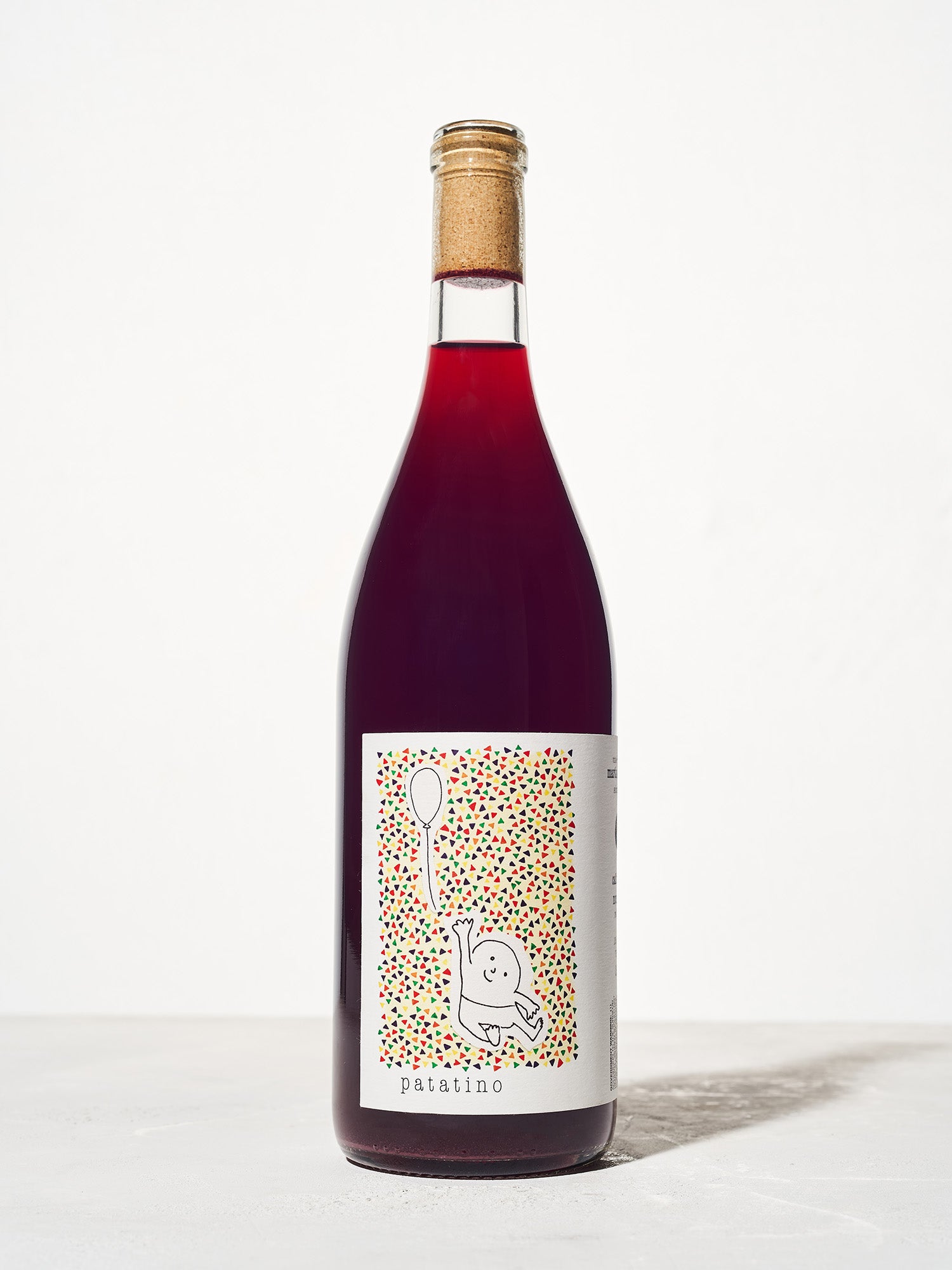 Patatino Noueavu 2020
Varietal:
100% Nero d'Avola
Vineyard:
70% Chiarito Vineyard
Mendocino County; a new vineyard that we are leasing and farming; 27-year-old vines; head trained, no till; farmed to organic principles without the use of pesticides, herbicides, or synthetic fertilizers; loam soils.
30% Benson Ranch
Mendocino County; 15-year-old vines; dry farmed (no irrigation) to organic principles without the use of pesticides, herbicides, or synthetic fertilizers; gravelly loam soils.
Tasting Notes:
The first taste of harvest 2020 welcomes you with jubilant aromas of blueberry and cranberry. Early season strawberry and a whisper of tannin glides you into a tart, full belly laugh. Patatino's featherweight body and slight spritz keeps you lifted from Nouveau day (November 19) to New Year's.
Martha's Notes
This is our second vintage making our Patatino nouveau, and boy are we ready to celebrate. With many waves of wildfires this harvest, it's pretty special this wine even exists. This vintage was more than a little tough, but this lighthearted, fresh wine is symbolic of all that I am grateful for: my family, my team, and our earth. I made the first vintage of this wine in 2019 to celebrate the birth of my son, August (aka Patatino), who continues to bring a new perspective to my life daily, and who always welcomes a moment of play. Nothing like little humans to pull you into the present moment. I hope this wine can also pull you into the present moment and encourage playfulness in our adult lives. Fun fact: Patatino means little potato in Italian and is what some Italian mamas call their babes. The 2020 Patatino is a blend of freshly fermented, whole cluster Nero d'Avola rosato from Benson Ranch (left to macerate on the skins overnight prior to fermentation), and destemmed Nero d'Avola red wine from Chiarito Vineyard (a light red fermented on skins for four days). The resulting wine is fresh, fruit-forward, low in tannin, and ready for early consumption.
Label art: My husband, Jon Patch.
Production Notes
Production: 219 cases
At Bottling:
12% alcohol. SO2 at bottling 10/22/20: 5 mg/L free, 14 mg/L total. Residual sugar: 0.2 g/L