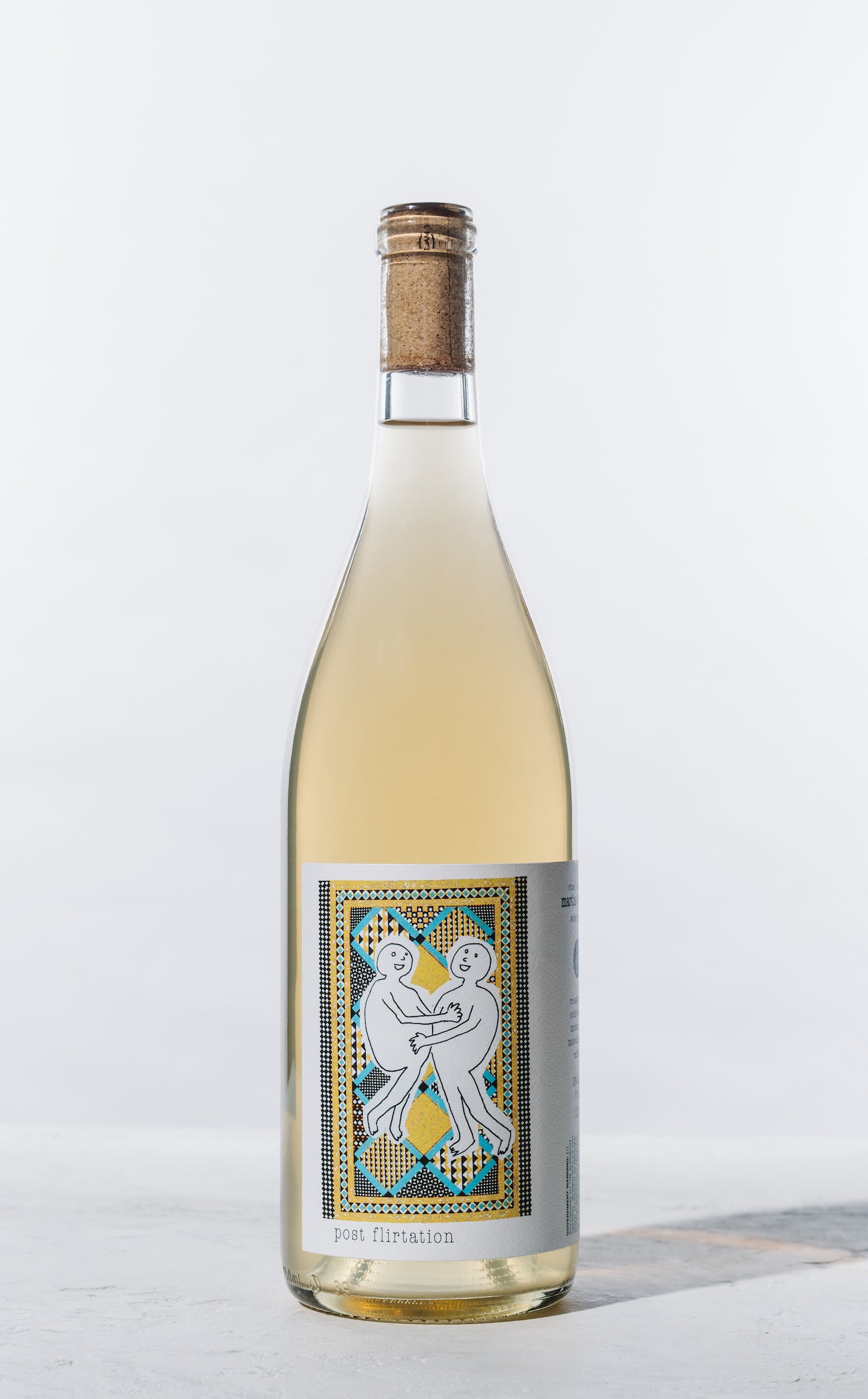 Post Flirtation White 2018
Varietal:
40% Roussanne, 23% Colombard, 17% Marsanne, 15% Muscat Blanc
Vineyard:
Roussanne, Marsanne, and Muscat blanc come from First Generation Farmers in Contra Costa County; farmed according to organic principles and undergoing the three-year certification process. Colombard comes from Ricetti Vineyard in Mendocino County; planted in 1948; certified organic; dry farmed.
Tasting Notes:
Bright citrus with a hint of white flower blossoms; salty minerality; dangerously drinkable. Drink chilled.
Tableside Talk
At only 10% alcohol we call this our session or breakfast wine. Also makes a great apertif with salty snacks.
Martha's Notes
This is always a fun wine to make, as it is the first fruit to come into the winery in late August. First Generation Farmers is located outside of Oakley, Contra Costa County (affectionately CoCo). The weather and soils of CoCo are reminiscent of the Mediterranean, with a hot land mass, super duper sandy soils, and a near constant cooling wind coming off of the very cold salty waters of the Carquinez Strait. The resulting wines are full of summer flavors, slightly salty, and extremely drinkable. In 2018 we blended in some earlier season Colombard to illuminate the brightness of this wine. This old vine Colombard is versatile, as it maintains basically the same sugar level and acidity on the vine from August to November. When picked in late August it reminds me of a featherweight Basque Txakoli (while our late season Colombard going into our Honeymoon has a more Chenin-like characteristics). As fun as it is to make, this wine is even more fun to drink.
Production Notes
Production: 765 Cases
At Bottling:
At bottling (January 2019): free SO2 0 mg/L, total SO2 16 mg/L.