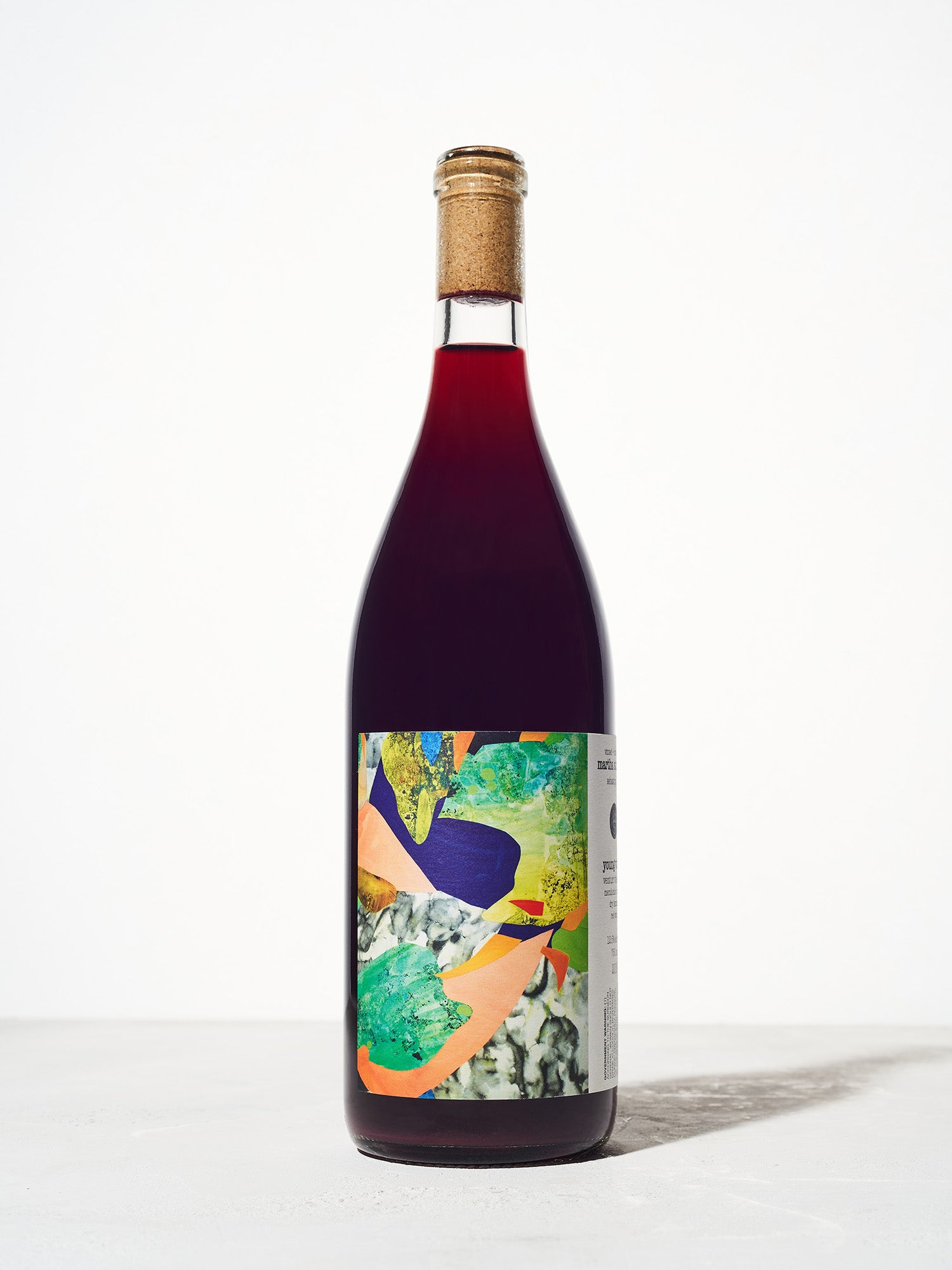 Young Vines 2019
Varietal:
99% Zinfandel-related clones, 1% Vermentino
Vinification Notes:
The Zinfandel-related clones were harvested by hand, kept whole-cluster, and co-fermented in an open-top stainless steel tank. A few bins of grapes were foot tread to encourage the onset of fermentation, while the remaining majority of the whole-clusters were loaded on top. During early stages of fermentation, gentle body punch-downs and short pump-overs were used in order to limit extraction. After 10 days, the fermenting juice was racked and returned back to the tank (délestage) and a seal was placed on the tank to begin an extended maceration. After an additional 16 days, the tank was drained and pressed, and the wine was racked to neutral oak barrels to age. The wine was kept in barrel for 9 months before racking and final blending.
Vermentino was harvested by hand, kept whole-cluster, and gently foot tread before pressing. After pressing, the juice was racked to a single stainless steel tank to begin fermentation. The wine was twice racked off its lees, once after a very active 12 day fermentation, and again when fermentation was complete. The wine continued to age in neutral Flextank for 9 months before an inspirational splash was added to christen the 2019 Young Vines blend.
Vineyard:
Venturi Vineyard, Mendocino County; certified organic; dry farmed on Pinole gravelly loam soils. While the vineyard soils have been planted to grapes for over 100 years, these "young vines" of Zinfandel-related clones (Primitivo, Rockpile, Dupratt, Dempel) are less than 15 years old, on average. The Vermentino, planted alongside the Rockpile block, was harvested for the very first time in 2019.
Tasting Notes:
A juicy nose of wild blackberry, baking spice, and ancho chilli — everything you want Zinfandel to smell like, but it rarely does. The splash of Vermentino gives white peach and citrus zest. A generous body balanced by moderate acidity and characteristically dusty tannins (Venturi Vineyard's signature).
Tableside Talk
These vines are planted on land where grapes have been growing for over 100 years. Rocky soils tame some that typical colt-like kicking that young vines express.
Martha's Notes
I find loose inspiration in art, music, and yes, other wines of the world. This wine throws a Californian wink at Côte-Rôtie, where a portion of Viognier may be blended into Syrah as a means to lift aromatics. While the white grape Vermentino is not quite the aromatic powerhouse that Viognier is, it subtly lends a small element to this blend of Zinfandel-related clones. Zinfandel-related clones? This mix of clones was one of the top two reasons I was drawn to this parcel (rocky soils was #1). This unique mix of Dempel, Rockpile, DuPratt and Primitivo clones all bring a different voice to this wine, resulting in a wine full of spice, dark fruit, and taught tannins.
Production Notes
Production: 115 cases
At Bottling:
12.5% alcohol. Unfined. Filtered. At bottling (June 2020): free SO2 5 mg/L, total SO2 26 mg/L.