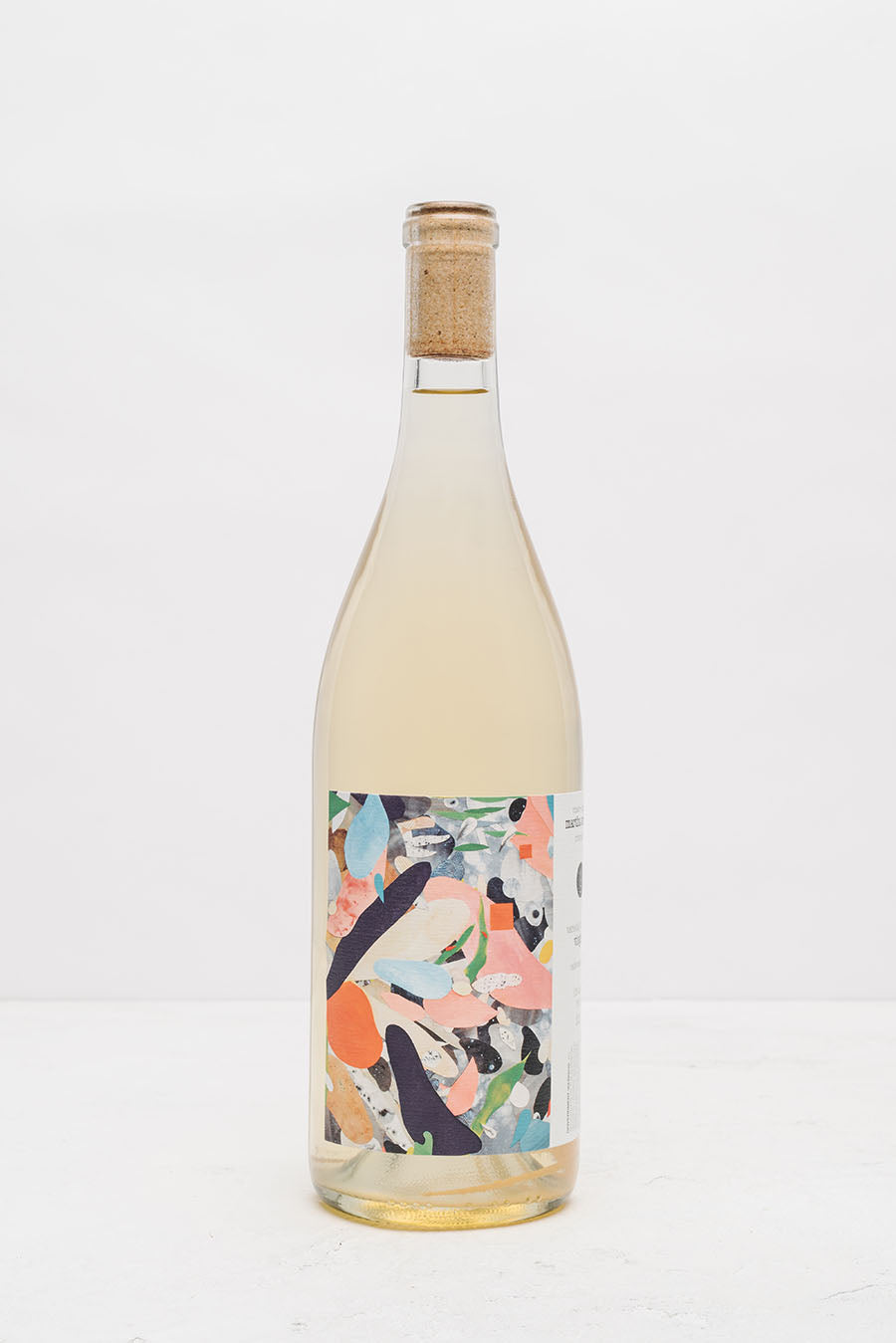 Varietally Incorrect Viognier 2018
Vinification Notes:
In 2017 we experienced an intense heat wave in California. It was felt most along the coast and in lower elevation vineyards. The moderately high elevation (550 meter) Starry Night Vineyard in Calaveras County in the Sierra Nevada foothills lies in an area with an alpine climate. This vineyard is planted just above where the last natural oak tree grows in the pine belt, so is acclimated throughout the year to more extreme hot daytime temperatures and low nighttime temperatures. As a result, daytime conditions didn't vary too much at this site during the heat wave. The Viognier is planted on an east-facing slope in a small valley, so received a good amount of morning sun, but was able to retain acidity. The grapes were hand harvested in late August.
The grapes were whole cluster pressed and fermented (native) is a neutral tank. Primary fermentation happened quickly and the wine was racked to two neutral French Oak barrels for a short 7 month elevage before bottling. No additions, including SO2, were added at any point.
Vineyard:
Soils: The upper two meters of soils are well drained, oxidized (red), with large amounts of schist and moderate amounts of quartz. We have found large deposits of limestone on the neighboring ridge, but have not been able to dig deep enough to see if this is part of the Starry Night bedrock (the vineyard is steep and difficult to dig). The Sierra Nevada Mountains are well known for extremely mixed and diverse soil types.
Non Certified Organic Farming: I started leasing this vineyard in winter of 2016, and took it over from the older landowners who had been farming according to organic principles. I do not apply any herbicides or pesticides, even those approved for organic farming, and I did only two well-timed elemental sulfur sprays (no copper). This vineyard was dry farmed (non irrigated) and not tilled. As with all vineyards in California, this vineyard receives no rain from April to December, but climactically is one of the driest climates (no fog).
Martha's Notes
Viognier is a famously aromatic and full-bodied (sometimes described as "oily") white variety with strong varietal characteristics. It grows well in California's warm climate, but tends to become flabby and can show overly intense canned peach aromatics and flavors when grown on many of California's more fertile soils. In the New World we tend to discuss varietal typicity as one of the most important benchmarks for which to measure a wine. California Pinot noir producers are constantly comparing themselves to Burgundy. I think we are missing the point. Instead of: Does this wine taste like the Viognier from France? (no), I ask: What can I do to make this wine represent the territory where it grows in the most transparent way possible? If the finished wine is "varietally incorrect" who cares? Are the vines healthy when grown on this parcel? Does the wine represent the land? Is it pleasurable? Does it express my version of native state of California? Great. Enough. Perfect.