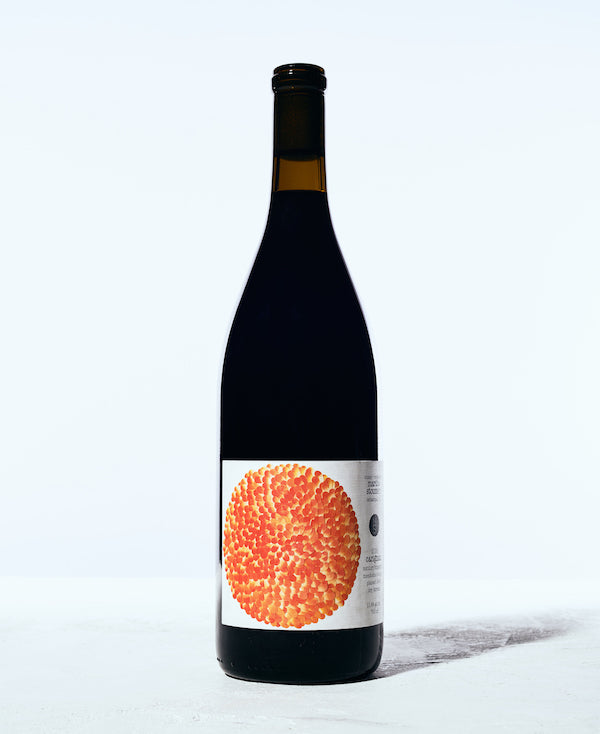 Venturi Carignan 2018
Vinification Notes:
We ferment this Carignan 100% whole cluster. A small portion of whole clusters are foot tread and placed in the bottom of the tank, then un-tread clusters are put on top. We foot-tread or perform body punchdowns for about a week until things are soft enough to gently pumpover. Because grapes are broken up slowly over time, sugars are also released slowly rather than all at once, resulting in a slower fermentation. We do one delestage ~⅔ through fermentation, and allow for a 28-day maceration before pressing. The wine ages in neutral barrels for 12 months on lees, is racked, and bottled. The minimal SO2 found in this wine is due to spot sulfuring specific barrels in the lot during the year of aging.
Vineyard:
Venturi Vineyard is in Mendocino County; planted in 1948; dry farmed; organic.
Tasting Notes:
Aromas of dried herbs, rose petals and cherry fruit leather happily greet you on the nose. Bright cherry notes on the palate with a lovely light body and dusty tannins.
Martha's Notes
Venturi Vineyard is located just north of Ukiah, in the Calpella Valley, on predominantly Pinole gravelly loam soils. Containing a mixture of sandstone, shale and quartz, these deep, well-drained soils were formed from alluvial flows, depositing fist-sized stones along the way. The 70 year-old Carignan block we work with is on a particularly stoney parcel as it lies on former Russian Riverbed. These parcel characteristics, along with a long, cool fermentation result in a Carignan much lighter bodied than most.
Production Notes
Production: 400 cases
At Bottling:
At bottling (July 2019): free SO2 7 mg/L, total SO2 13 mg/L. Vegan.